Products
Transform your garden into something uniquely you. At the Georgetown Garden Centre, we have the tools to breathe life into your vision. Whether you're looking for tropical plants or wanted to start an herb garden, don't settle! Our selection of plants, planters, baskets and more will have your yard looking just right.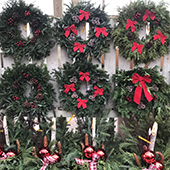 Christmas and Holiday Decorating
With the weather getting colder and the holidays fast approaching, you can keep things warm and festive by decorating your home. We offer an array of products to make both your outdoors and indoors looking great all season long.
Fall Essentials
Just because the summer season is coming to an end does not have to mean so does the beauty in your gardens. Fall is a great time to freshen up your garden and patio, adding plants and colours that will brighten up your home. Many of these plants are able to handle a little cooler conditions that the fall weather brings with it and therefore will continue to provide colour throughout the season. We offer an array of prefinished accent planters along with many different plants to add colour directly to your garden or create your very own unique containers.
Some of the plants we offer include:
Garden mums (available in many colours and sizes from 4 inch pots up to 14 inch pots)
Ornamental cabbage and kale
Purple fountain grass
Ornamental pepper
Rudbeckia
Dusty miller
Celosia
Ivies
& Many More
Tropicals
Add a touch of exoticism to your life. Our selection of tropical plants will transport you to a different locale and give you that summertime-feeling. These plants are packed with warmth and depth and are sure to add dimension to any garden.
Soils & Mulches
The secret ingredient to a thriving garden is its foundation. While it's easy to forget about soil and mulch, choosing the right match for your plants is essential in order to ensure your garden is flourishing all season. Some of the options we offer are:
Outdoor Soils

Topsoil
Black Earth
3 Way Mix
Potting Soil
Manure
Peat Moss

Mulches

Black
Red
Natural Cedar
Natural Pine

Stones
Indoor Soils

Potting Soil
Cactus/Succulent Soil
Tropical Soil
African Violet Soil
Orchid Potting Mix
Hanging Baskets
Hanging baskets are an excellent option for those looking to add an instant pop of colour to the exterior of their homes.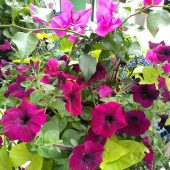 Mixed Accent Planters
Wow your friends and family during your next get-together with your mixed planters. Our planters are an easy, ready-to-go way to liven up your exterior that save you the time and hassle of having to do it yourself. With planters in many sizes containing plants that range from sun-loving to shade-loving and everything in between, were sure to have the perfect planter for your home!
Hydrangeas & Perennial Plants
Our wide selection of high-quality perennials is a great choice for both the beginner gardener and those with a natural green-thumb. If you're looking for a plant that will add colour to your garden year after year perennials are the low-maintenance choice for you!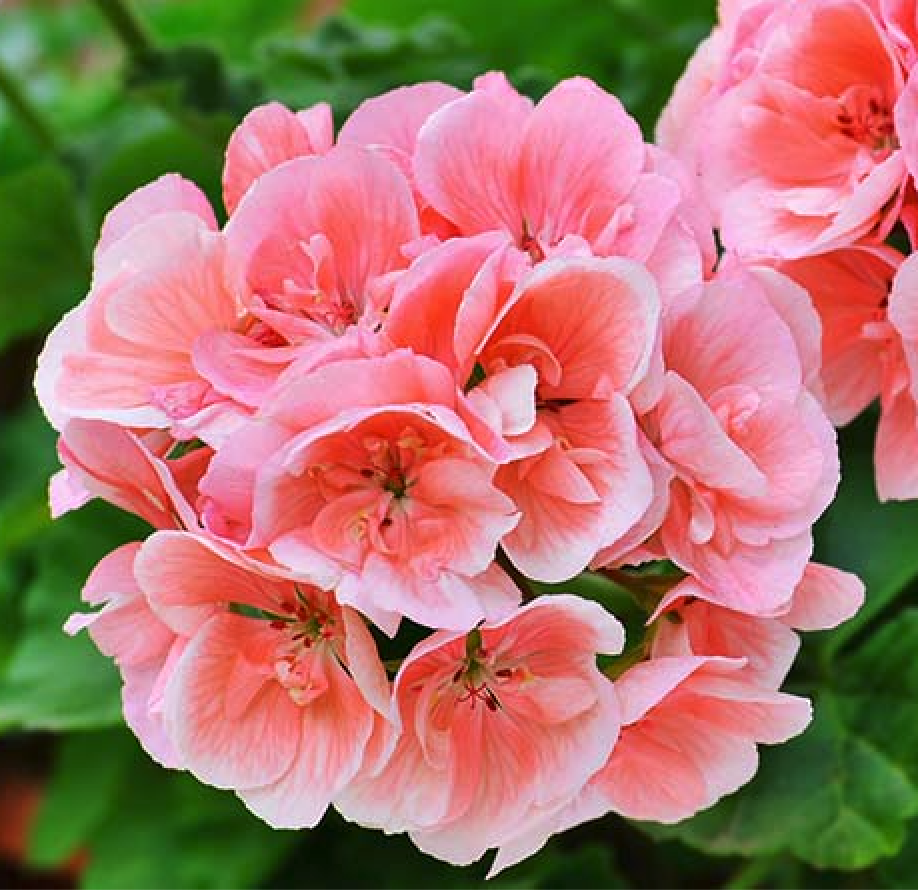 Annuals
If you want colour all season long, annuals are the way to go! They come in many different shapes and sizes and in an endless amount of colours. Annuals bloom and provide colour to your garden for the entire season putting on an impressive show that will brighten your home. We offer a large variety of annuals that are sure to thrive in the specific conditions of your home.
Vegetable & Herb Plants
There's nothing quite like enjoying the fruits-or, in this case, vegetables-of your labour! The expansive selection of herbs and vegetable plants we offer allows you to cut down on the summer grocery bill by growing tons of summer produce yourself. Perfect for the new or returning gardener, nothing is better than freshly picked produce that you feel confident about where it's coming from.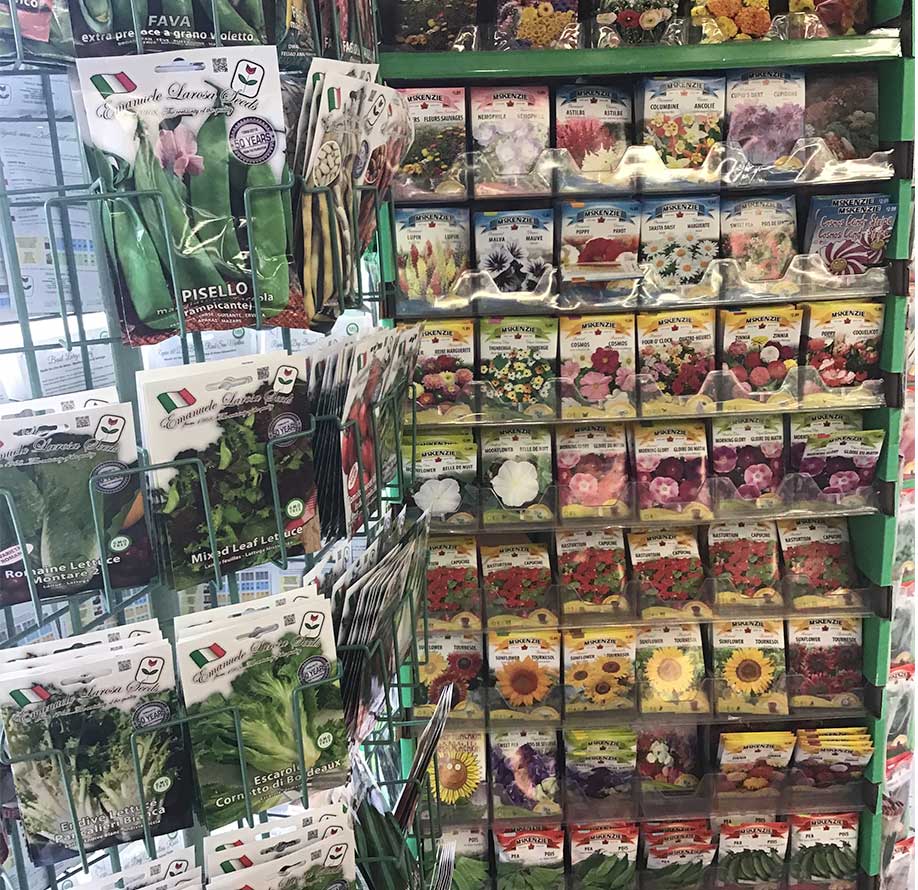 Seeds
Start your garden from ground-zero. Indulge in the fun of watching your plants grow all the way from germination to harvest. We carry a vast assortment of seeds from multiple suppliers to provide customers with a greater selection. In addition to flowering and vegetable seeds produced in Canada, we carry vegetable seeds imported from Italy which contain traditional varieties common in European culture. Some types of seeds we carry include:
Vegetables
Herbs
Annual and Perennial Flowers
Seed Tapes
Organic seeds
Onion and Garlic Bulbs
Spring and Fall Flowering Bulbs
Grass seed
Indoor Plants & Floral Agreements
Spruce up your interior by bringing a touch of the outdoors in! Houseplants provide us with the opportunity to continue scratching that garden-itch all year long. Among their benefits, houseplants help clean and filter the air, reduce stress, promote positivity and calmness, and more! With plants that grow in both high and low light environments, we have plants for every corner of your home. Some of the plants we carry are:
Succulents
Cacti
African Violets
Orchids
Various Tropical Plants
Anthurium
Peace Lilies
& Many More!
Fertilizer
Plants – like people – need food to survive too! By providing nutrients essential to plant growth, fertilizers are a great tool to keep your plants robust through the season. We offer fertilizers in organic, water soluble, liquid and granular forms to make feeding your plants as easy and convenient as possible. With a large selection of fertilizers designed to cater to your plants' needs, you're sure to find the perfect one for you. Some of the fertilizers we offer are:
All Purpose
Tomato and Vegetable
Evergreen and Shrub
Rose
Bloom-Promoting
Perennial
Rhododendron and Azalea
Indoor Plant
Blood Meal
Bone Meal
Garden Supplies
At the Georgetown Garden Centre we're no stranger to how much it takes to maintain a garden, that's why we offer supplies in-store to save you the hassle of going to multiple retailers. We carry supplies including:
Pots
Saucers
Decorative Urns
Decorative Plant Stands
Watering Cans
Cocoliners
Bamboo Stakes
Peony Rings
Tomato Cages
Pest Control
Disease Control
Weed Control
Aluminum Sulphate
Dolomitic Lime
Vermiculite
Perlite
& Many More